Other Books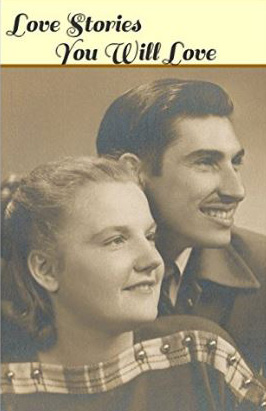 A collection of true stories about love and marriage, written by a wide range of everyday people. If the stories bring you encouragement and laughter, as you see how the Lord has worked in the lives of many people to bring them a godly spouse in His time and His way, then the book will have achieved its purpose.
Kindle edition: 99 cents https://www.amazon.com/dp/B01N0MYVZU
Paperback edition from Kindle: $6.00 https://www.amazon.com/dp/1891907514
This book is not available directly from Castleberry Farms Press. You need to order it from the Kindle store. From the links provided there, you can preview and read portions of the book.
| | |
| --- | --- |
| | Against His Will |
Buy this book as a Kindle Ebook by clicking here.
Click here to read the first chapter
Will Lawson, a Scottish rebel, was sent to America as an indentured servant as punishment for his crimes against the crown of England. This book of historical fiction will capture your imagination and those of your children, as you follow the twists and turns of Will's exciting life. It was written by our daughter Betsy, who also happens to be Will's great, great, great, great, great-grand-daughter. Paperback. 2010 ISBN-10: 1-891907-24-7. $8.50 (plus shipping and handling).
"This is an excellent book. Betsy shows that she has certainly received a gift for writing like her parents have. A must read for all those who like historical fiction."
Indiana

"Against His Will is a beautifully written book filled with reminders of what many of our forefathers endured during America's youth. Not only does it contain history, but it also contains lessons on endurance, patience, love, forgiveness and integrity. This book will keep you on the edge of your seat as you follow this young Scottish rebel on his captivating journey to physical and spiritual freedom." Nebraska

---
---
| | |
| --- | --- |
| | The Delivery |
Buy this book as a Kindle Ebook by clicking here.
Click to read the first chapter
Joe Reynolds is a husband and father striving to live a life pleasing to the Lord Jesus Christ. Having been a Christian only seven years, he has many questions and challenges in his life. How does a man working in the world face temptation? How does he raise his family in a Christ-honoring way? This book attempts to Biblically address many of the issues that men face daily, in a manner that will not cause the reader to stumble in his walk with the Lord. The book is written for men (and young men) by a man – we ask men to read it first, before reading it aloud to their families. Paperback. 1999. ISBN 1-891907-09-3. $8.50 (plus shipping and handling)
"Just wanted you to know that I loved your new book -- just finished reading it." Ohio
"I really would like to thank you for these books. They have been a real blessing to read. I shared them out between the family to read and review and we have all been thrilled with them. I was really challenged and encouraged by "The Delivery" especially. God bless you!" Wales, UK
---
Our Homestead Story:

The First Years
Buy this book as a Kindle Ebook by clicking here.
Click to read the first chapter
This is the story of our family's transition from "town life" to "country life". As we desired to move toward a more self-sufficient lifestyle with the help of God, we had many new experiences and adventures. Raising children along with learning about caring for cows, chickens, horses, sheep, and a garden were . . . well, humorous! Nonfiction. Paperback. 2nd edition, 2003. ISBN 1-891907-12-3. $8.50 (plus shipping and handling)

"Our Homestead Story: The First Years is such a good book! We laughed until we cried; until we rolled on the floor! The book is the story of one family's journey towards a more self sufficient lifestyle--with the help of God! Read about their hilarious experiences with their chickens!!! and also their many animals--cows, sheep, dogs, racoons!! (not by choice!). Read about soap and candle making, spinning, fixing up an old farmhouse, and much more in this excellent book!" From a review in Future Homemakers, September/October/November 1996 issue, p. 5.

"The Castleberry family found themselves longing for a more self-sufficient lifestyle, and with zero previous experience, undertook the ultimate unit study: they bought a small farm and began learning as they went. . . Steve's sense of humor makes this book shine like a jewel. . . Not one drop of the family's experiences were wasted: even the "failures" like chain-gang Molly the cow were springboards for learning for the Castleberrys. You could read a book like this in order to complement a school study on farm life. Better yet, you could just read it for the pure joy of it. Highly recommended!" From a review in Practical Homeschooling, July/August 1997, p. 68.
---
Through the Years Together:

Homestead Part II
Buy this book as a Kindle Ebook by clicking here.
Click to read the first chapter
Through the Years Together is a continuation of the Castleberry Homestead Story. The children are growing up, and new animals and experiences are added into the Castleberry farm life. This true story tells about our lessons with bees, goats, making hay, tractors, fencing, caring for the cows, and remodeling the old farmhouse, as well as many anecdotes about everyday life with eight active children. Discover how the Lord has led our family and blessed us with His love and faithfulness – through the years together. Paperback. 2006. ISBN 1-891907-18-2. $8.50 (plus shipping and handling)

"Thank you very much for the new homesteading book. We spent a good deal of this afternoon reading it to each other, it had us laughing so hard." Wisconsin
"Through the Years Together" was just as funny and wonderful as the first homestead book! I especially enjoyed the stories of haymaking and your crazy/stubborn/hungry cattle..." Minnesota

" I am now reading your Part II about Homesteading, and thoroughly enjoying it, like I did the first one! I especially enjoy your sense of humor in the way you write about what has happened! THANKS!" Virginia

" We own every single one of your books, and have been very blessed by their godly quality and wholesome, edifying enjoyment. We are presently enjoying and laughing our way along with your Homestead Story, Part II. . . a big thank you to you and Susie and your family for the wonderful and exceptional books that you have published." Texas
"I just had to let you know that I LOVE your two homestead books! I brought them with me to [work] and I was laughing out loud!...Thank you so much for your books. Your family sounds delightful." Arkansas
---
NEW! If you would

like to buy both Homestead books, they are only $7.50 each. Click here to purchase the set:
 
---
| | |
| --- | --- |
| | The Choice |
Buy this book as a Kindle Ebook by clicking here.
Click to read the first chapter
Nineteen-year-old Bruce Cohlmann has a choice to make. He can continue to fish for salmon in Alaska, following a four - generation tradition that he knows and loves. But God seems to be opening a different door for him, and Bruce has to make a decision. How can he know what the Lord wants him to do with his life? The Choice, written by our oldest son, Stephen Castleberry, Jr., tells the story of the steps Bruce takes as he tries to determine God's will. Paperback. 2006. ISBN 1-891907-17-4. $8.50 (plus shipping and handling)
"Keep writing, our children really enjoy your books." Ohio

"We love your books. I can not tell you how refreshing it is to have good literature based on similar morals of our family. . . Thank you for committing to doing a work that upholds godly standards – a true rarity in these days and times." Oklahoma

"We are really looking forward to reading The Choice, as my oldest boy is almost 16 and starting to try to decide where he is headed in life." Tennessee

---
| | |
| --- | --- |
| | In the Kitchen With Katie |
Buy this book as a Kindle Ebook by clicking here.
Click here for the Table of Contents
Click here for the Publisher's Comments
Click here to view a sample chapter
Our second daughter, Katie, has put together many of our favorite recipes. You'll find delicious, nutritious, family-pleasing ideas, including recipes for chicken, beef, potatoes, yeast breads, quick breads, and desserts. Nearly 100 recipes, including Jason and Andy's famous macaroni and cheese! A few recipes are quite simple, making it easy for young girls to begin cooking for their families. Mom will also enjoy creating many family dinners using this book. We made the book spiral bound, so that it will lay open flat on the counter, making it easier to use. Spiral bound. 2006. ISBN-13: 978-1-891907-19-7. ISBN-10: 1-891907-19-0. $8.50 (plus shipping and handling).

"Congratulations, Katie on the publishing of your first book! We love it! It's been fun to read and learn new ideas from your family." Wisconsin
"Our daughter was thrilled to receive Katie's cookbook for her birthday present. Tonight we made the wheat crackers . . . Needless to say they didn't last very long. Yummy! Thank you for your helpful recipes." Internet
"We just had to tell you .... I have been looking for YEARS for a new oatmeal-raisin cookie recipe. I am serious. I've tried countless recipes & many years ago, had even written down one that was a compilation of several that we thought we liked well enough but I have not been happy with it for a long time. This week-end, my dear husband asked for some oatmeal-raisin cookies so my daughter Hannah, who got Katie's cookbook, pulled out the book & looked up your recipe. We tried it and we are almost swooning.... I only made a half recipe (silly for our family of 9, but hated to use all those ingredients if they turned out to be only *OK*) and we all agree that they are the BEST oatmeal-raisin cookies I've ever made! So thank you, thank you, thank you!" Michigan
---
| | |
| --- | --- |
| | Call Her Blessed |
Buy this book as a Kindle Ebook by clicking here.
(Sorry, but we are out of stock with no plans to reprint paper copies at this time. The book is only available as a Kindle ebook.)
This book was written to encourage Christian mothers to be joyful and consistent in their calling. Many women have told us that they need examples of Christian motherhood, and Call Her Blessed is an attempt to provide such examples. Each chapter centers on a different theme, using stories from the lives of real mothers to help readers grasp truths of how to follow God's will for their lives in mothering their children. Some of us are "first generation" Christians, and this book has been an encouragement to many in understanding ways they can follow the biblical command for mothers to love their children. Nonfiction. Paperback. October 1998. ISBN 1-891907-08-5. $6.00 (plus shipping and handling).
"Not being raised in a Christian home and being saved after ten years of marriage and four children has caused me to need as many godly examples as I can get. The 'problem' is I am the oldest and have more children than any mothers I know. Women look to me as an example — they shouldn't do that! . . . My daughters and even my sons need me to be a godly example." Wisconsin
At age 39 and just having my seventh 'bundle of joy,' I feel quite in the middle. On the one side I am teaching my 16 year old daughter and on the other I'm still trying to learn my role as the submissive, loving wife and mother. All this to say 'thank-you' for stepping out and printing a book specifically for women." Illinois
"It was the best book you have written so far. I laughed and cried in every chapter. You can't imagine how it encouraged me — it was just what I needed to get me back on track. It helped me say, "Yes! I will pour out my life for my husband and children." Florida
"It had the teaching I am always looking for. Not being raised in a Christian home, I need these stories and examples to learn how to become the wife and mother God wants me to be." Wisconsin
| | |
| --- | --- |
| | In the Spring of the Year |
Buy this book as a Kindle Ebook by clicking here.
(Sorry, but we are out of stock with no plans to reprint a paper copy at this time. You will need to purcase the Kindle ebook version.)
Meet the Hunter family and share in their lives as they move to a new home. The first in our newest series, In the Spring of the Year is written especially for children ages 5-10. Nancy, Caleb, and Emily learn about obedience and self-denial while enjoying the simple pleasures of innocent childhood. This is a simple book, suitable for reading to younger children even at bedtime. Paperback. 1999. ISBN 1-891907- 07-7. $8.50 (plus shipping and handling). OUT OF STOCK.
"We loved reading In the Spring of the Year. My boys 8 and 5 couldn't wait for story time each day. Thank you." Georgia
"My sons and I are hanging on the edge of our seats!" Florida
"Please send me your complete list of Castleberry Farms books...I want to make sure I don't miss a one. Thank you for wholesome reading!!" Indiana
"Spring of the Year was very good!" A young reader in Montana
"We have finished In the Spring of the Year and enjoyed it very much." North Carolina
"I would like to order 4 copies of your newest book...Thanks so much for writing quality material that my friends and family truly enjoy." New Jersey